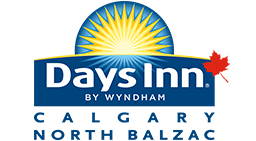 Days Inn Calgary North Balzac will open Summer 2017. For more information about reserving a room or special opening rates, please contact us at reservations@d3h.ca
X
meetingroom
Hotel Meeting Rooms
We invite you to host your next small meeting or event in our 465-sq. ft. naturally-lit meeting space at the Days Inn Calgary North Balzac hotel. Conveniently located within minutes of the Calgary International Airport, our hotel is the perfect backdrop for your corporate event, business meeting or small party function, with features including a built-in LCD projector, high-speed Wi-Fi and whiteboard and windows for natural light. We also offer a range of audio-visual service rentals and full catering services.
Contact us to receive a quote or set up a site tour at our Calgary hotel.
FULL MEETING ROOM AMENITIES
Can accommodate 16 conference guests or 30 banquet guests
Full Audio Visual Rental Services
Catering Services
Free Wi-Fi Internet Access
Built-In TV
White Board
Large Window with Natural Light
THE FINE PRINT: POLICIES AND PAYMENT
To ensure a positive experience for you and the party following you, we kindly request that you adhere to the start and finish times of your function. The space is only booked for the time indicated, and all personal materials must be removed from the meeting space at the end of each event, unless that space is reserved on a 24-hour basis.
Days Inn Calgary North Balzac requires 48 hours' advance notice of the guaranteed number of guests attending your function. In the event that we do not receive a guaranteed number, we will use the last number given to us; we will not be able to provide meals for extra guests after that time.
PAYMENT
Event accommodations at Days Inn Calgary North Balzac require a valid credit card to confirm the event. An authorization form must be filled out in advance. At the conclusion of the event, charges may be paid via credit card, debit, and cash. If payment has not been provided, the credit card on file will be charged. We will provide a receipt once payment is received. Direct Billing may be set up in advance. Processing of a direct billing account can take up to five business days.
CANCELLATION POLICY
A $75 cancellation fee will be charged with notice is given less than four business days in advance of the booked function. If a cancellation occurs less than 24 hours before the scheduled start of the event, you will be charged the full amount, included any booked food and beverage services and audio/visual rentals.